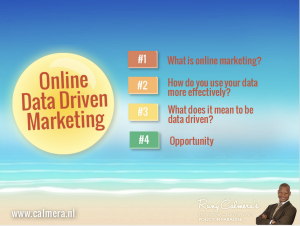 During this Episode of my new mydreambusinesscoach.com I talked with Mrs. Maurette Antersijn.
Maurette is an expert on Online Data Driven Marketing. I invited her to our monthly show, because I know she has a lot to offer us Small Medium Enterprises. Especially if we are on Caribbean islands, we sometimes tend not to use all modern technologies out there in the world. But as SMEs we now have entered a new world. A world where we can be broadcasting information to millions of potential customers.
We could have our website measure all what is happening on our website.
Why people come to us?
What they are looking for?
Why and where they left our website? Did they buy?
If you have a business and you have an online presence, this webinar will give you a headstart. It will show you the concepts. In just one hour of your time, cause I know your time is expensive, you will know the latests on Online Data Driven Marketing. This is a hot topic. And now also accessible for small business owners like you.
So head to the site mydreambusinesscoach.com and sign up and you will get the link to the replay as soon as it is ready.
Signing out here.
Runy Calmera
Mydreambusinesscoach.com
Comments
comments